The World's Leading Work Management Tool With Thousands Of Users, 

Managing Billions Of Dollars Worth Of Assets, Equipment And Projects.
Fewzion becomes Commit Works
From now on the Fewzion business will be called Commit Works (www.commit.works) our products "Fewzion" and "Visual Ops" are still available and will be provided by the Commit.works brand.
Our biggest fans are passionate about how our products help to create an environment of both trust and commitment on site by getting everyone on the same page. Late last year we came across this quote.
 "SUCCESSFUL ORGANIZATIONS ARE DRIVEN BY PEOPLE THAT MAKE COMMITMENTS TO EACH OTHER AND DELIVER ON THEM"
Fewzion is easy to use software for planning and managing frontline work. Our goal is to help you get everyone on site working safely and productively on the same page to improve results.
Things are done when they are in

Fewzion

for two good reasons
A Single, Integrated Plan




Gets everyone on the same page
Fewzion helps you build a single integrated plan by bringing all work (i.e. planning, ERP, maintenance, project and HR systems) into one place. This makes it possible to balance the work you want to do and the targets you want to meet with the resources and equipment you need to get the plan done. Most importantly it makes work visible so people can agree on and commit to it                                           .
 A Visual Commitment System




Helps you continuously improve
Successful organizations are driven by a series of commitments that people make to each other and deliver on. But, it's really hard to make and keep commitments in most workplaces because frontline work is managed in spreadsheets and whiteboards. An effective "commitment system" supercharges your management operating system (MOS), makes it easier to implement and more sustainable.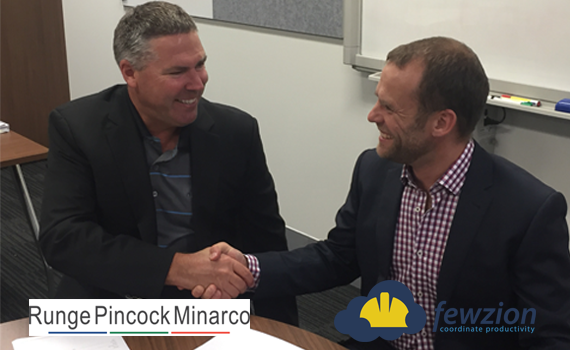 ASX Announcement 21 December 2016

RungePincockMinarco Limited (ASX: RUL) [RPM] has today entered into an agreement to acquire a copy of the source code and intellectual property rights of the Fewzion Short Interval Control (SIC) and work management software product.
Helping you deliver results for your business.
Reduce risk
People are more likely to be hurt at work when they are doing unplanned work. Sadly most people don't go to work with an effective plan each day. Fewzion changes this so you can avoid being on the wrong side of this quote.
"90% of the injuries that occurred on sites that I ran happened when people were working "off plan" Andy Greig former CEO of Bechtel's mining business.
Maximise Production
Well planned work is significantly more productive than unplanned work, coordinate work across site with Fewzion and improve production.
"In relation to the 10MT production record at Grasstree in 2015, Fewzion has played it's part by ensuring one structured plan on site and as such one version of the truth." Glen Britton, Head of Underground Coal Operations, Anglo American
Win the war of waste
Waste is the enemy of operations but it is hard to remove across multiple processes, people and equipment on a constantly changing site. With Fewzion you can be confident you are doing the right work at the right time with right equipment and just the right number of people.
Our clients conservatively estimate reductions in labour costs of over $120,000 per month through reduced overtime and contractors.
Find out if Fewzion could work for you
Start Your Free Personalised Demo Today!

Ready to discover how Fewzion can help your organisation?
Within just 10 minutes discussing your business, our team will show you how Fewzion will help.
Everything & Everyone
Everyone (employees and contractors) and all their equipment can be managed in just one place (because everyone on site is in some way involved in getting the plan done)
Cross-functional
All processes on site can be planned in one place. Production, Maintenance, Training, Projects, Safety, Compliance and more all in the same system.
Mobile
Plans can be made at your desk, adapted on the fly and updated by the team out in the workplace so everyone has the information they need when they need it.
Fast Rollout
Fewzion is easy to use and setup so a typical site can be up and running with a bit of prework and few weeks of onsite training and coaching
Manage people, projects and resources more quickly, efficiently and productively with

 

Fewzion.
Learn Something From These Free Explainer Videos
Operational Systems Map
There is a big gap in most operational systems maps and it's causing waste, reducing production and risking lives. Watch the video below to see how most operational systems fit together, where the gap is and why it matters to your business.
Management Operating System
A management operating system (MOS) is the set of tools, meetings and behaviours that link the intentions of management with the work done each shift. Watch the video below to see how the elements of a MOS fit together.
Mutually Beneficial Supervisor
The interaction between frontline managers, supervisors and their crew is critical to the performance and safety of the team. Watch the video to find out why a shift plan is the key to this and how it improves workforce engagement.
Read More In Our Blog

We regularly speak in public about the need for good frontline planning and a commitment system, we share a lot of our views in this blog.
Coordinate productivity with confidence. Get in touch today.